WHY HABITAT?
PHEASANTS FOREVER: "THE HABITAT ORGANIZATION"
Two factors affect pheasant populations above all others—habitat and weather. While we can't control the weather, we can influence the quality and quantity of upland habitat. Habitat is what supports long-term strong and healthy pheasant populations.
Since forming in 1982, Pheasants Forever has created or enhanced wildlife habitat on 10 million acres across the United States and parts of Canada. Here's how Pheasants Forever accomplishes this work.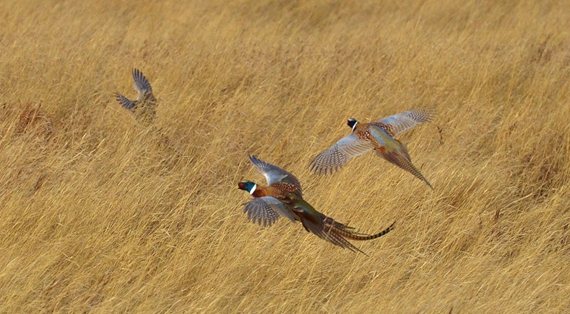 HABITAT PROJECTS
With a network of more than 700 chapters and 140,000 members across the United States and Canada, Pheasants Forever is able to accomplish thousands of wildlife habitat projects annually.
Additionally, Pheasants Forever participates in land acquisitions to permanently protect critical habitat for upland wildlife while simultaneously opening the areas to public recreation, including hunting. Completed in conjunction with local, state and/or federal natural resource agencies, more than 170,000 acres are now protected and open to the public as a result of Pheasants Forever's participation.
UNIQUE CHAPTER MODEL
Why are chapters of Pheasants Forever completing nearly 20,000 wildlife habitat projects annually? They have the funds to do so. Unique among national conservation organizations, Pheasants Forever empowers its local chapters with the responsibility to determine how 100 percent of their locally-raised funds are spent. Chapter volunteers raise funds locally, spend funds locally, but remain vitally connected to a national organization to help impact conservation on a state and national level.
HABITAT CONSERVATION ADVOCACY
Pheasants Forever's mission is directly tied to a strong framework of federal conservation programs, including the Conservation Reserve Program (CRP). In addition to advocating for strong conservation policies in the Conservation Title of the federal Farm Bill and at the state level, Pheasants Forever employs more than 100 farm bill biologists across pheasant country who work with landowners to implement these conservation programs.
HABITAT CONSERVATION EDUCATION
Who will carry the conservation torch in years to come? Pheasants Forever is dedicated to passing on a land ethic and our outdoor heritage to the next generation. Youth interest in hunting and shooting sports can lead to a lifetime of outdoor appreciation and conservation support.